Providing quality care for the elderly in Hampshire and Surrey
Forest Care is a family owned and managed company, currently with four care homes that are rated either 'Good' or 'Outstanding' by the CQC in Hampshire and Surrey. With over 30 years' experience, our focus is to ensure we provide the very highest standards of care to our residents, and their ongoing welfare, comfort and needs are central to how Cedar Lodge, Oak Lodge, Rowan Lodge and Holly Lodge are run. We believe our homes should be a home in the truest sense, and we do everything we can to make our residents feel at home from the outset.
Our award winning homes have been recognised in providing leading care standards – Oak Lodge has been voted "Top 20 Recommended Care Homes South East England 2014, 2015 & 2016" on carehome.co.uk and was a finalist in the National Care Awards 2015. Cedar Lodge was awarded runner up "The Care Team Award" in the Great British Care Awards 2013.
In 2019, Forest Care Ltd received 16 finalist positions across varying categories in national and regional care awards, winning 6 of the prestigious awards:
Care Home Manager of the Year, Grace Adan – Oak Lodge, National Care Awards
Carer of the Year, Fay Kirrage – Rowan Lodge, National Care Awards
Frontline Leader of the Year Award, Nenita Jopson – Cedar Lodge, Surrey Care Awards
Knight Frank Luxury Care Guide 2020, Rowan Lodge a featured home
Excellence and Innovation in Dementia Care Award – Holly Lodge, Caring UK Awards
Activities Team of the Year – Cedar Lodge, Frimley System South Care Forum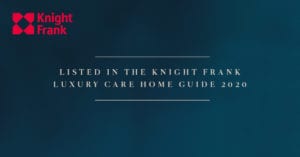 Oak Lodge and Cedar Lodge were also selected as "Runners Up" for two awards at the Caring UK Awards 2019:
Care Home of the Year – South – Oak Lodge, Runners Up
Management Team of the Year – Cedar Lodge, Runners Up
Choosing a care home can be a difficult and emotional process, but we are here to support you and to help you make the right decision.
Come and see us for yourself. Speak to the staff, see our residents going about their daily lives, take a look at the available facilities and find out more about how our purpose-built homes are adapted to meet our residents' needs.
Save