"Our All-Inclusive Fee covers all the care you need and a whole lot more. There are no upfront charges, no admin fees or deposits, no hidden extras and no nasty surprises" Read all about our All-Inclusive Fee here.
 
Finalists of National and Regional Care Awards
This private care home was honoured to be shortlisted for nine categories across a number of national regional care awards. The team is delighted to announce that Nenita Jopson, Care Home Manger at Cedar Lodge, won the Frontline Leader of the Year award at the Surrey Care Awards!
Celebrating 30 Years
On Tuesday 29th October 2019, Cedar Lodge celebrated its 30th Anniversary with a day of fun filled entertainment. From Skydives to time capsules, everyone at Cedar Lodge found different ways to celebrate the special milestone. Before a delicious buffet lunch made by Cedar's talented Chefs, the Mayor of Surrey Heath helped Frank Fogarty, owner of Forest Care, to plant a Japanese Cedar tree in honour of the special milestone.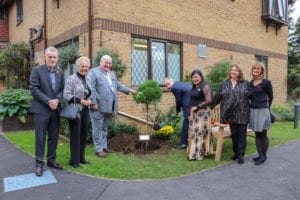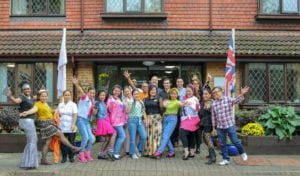 Cedar Lodge provides nursing care in Frimley Green, Camberley
****Click here to read our latest Press Release regarding Cedar Lodge****
At Cedar Lodge we believe in providing high standards of nursing care within a friendly, homely environment. Set in spacious landscaped gardens and surrounded by woodland, Cedar Lodge enjoys a quiet and peaceful location that is also convenient for local shops and amenities.
Rated as 'Good' by the CQC, Cedar Lodge nursing home is purpose-built and opened in 1989. Cedar Lodge is a carefully and thoughtfully designed home, aimed at giving the residents as much choice and freedom as they had in their own home, Cedar Lodge can accommodate up to 60 residents in spacious single occupancy bedrooms with en-suite facilities. Adding personal possessions help residents quickly feel at home.
There is plenty of space in Cedar Lodge and residents are free to choose where and how they spend their time. Residents can socialise as much or as little as they wish to and we offer an extensive activities programme that includes arts and crafts, fitness, parties, outings and visiting entertainers. In getting to know our residents, their likes and dislikes, we are able to ensure that we always provide choices that will be relevant and of interest. This extends to all aspects of life, from food preferences to religious beliefs. Our care is very much based on respecting and facilitating residents' personal needs.
If you are looking for a happy, friendly and caring nursing home, we would welcome your visit to Cedar Lodge. Call us on 01252 837019 or email cedarlodge@forestcare.co.uk to make an appointment.